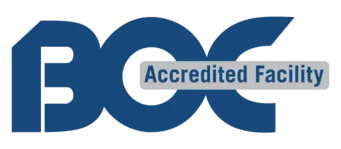 Premier Chiropractic & Pilates has successfully completed a rigorous process to earn Medicare accreditation from the Board of Certification/Accreditation (BOC).
Facility accreditation is awarded when a facility has successfully demonstrated its compliance with standards set forth by the Centers for Medicare/Medicaid Services (CMS) and BOC. Facility accreditation shows a supplier's focus on providing quality patient care.
"The goal of facility accreditation is to demonstrate a facility's ability to provide patients with quality care," notes Claudia Zacharias, President & CEO of BOC, locating in Owings Mills, Maryland. "With the American population spanning five generations, we are seeing an increased need for the types of products and services Premier Chiropractic & Pilates offers."
With this certification Premier Chiropractic & Pilates is recognized by Medicare as a DMEPOS supplier. Dr. Sherrill and his team are trained in the evaluation and fitting of braces for a variety of spinal and extremity conditions ranging from disc problems, strains, postural syndromes, scoliosis and arthritis. Dr. Sherrill works with Aspen Medical Products a leader in the industry of braces and supports.
Dr. Sherrill and his team work with primary care physicians to ensure all necessary paperwork is completed and authorizations are received in a timely manner to expedite the ease of access for patients.
If you have questions about whether braces or supports are appropriate for your specific condition please call our office at 530.666.6685.