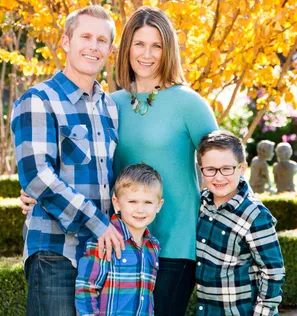 Dr. Christian Sherrill D.C., Q.M.E.
Dr. Sherrill performed his undergraduate work at the University of California, Santa Barbara. He graduated with a Bachelors of Science degree in Biopsychology earning Summa Cum Laude honors. During his studies he performed research studying the effects of pharmaceutical and recreational drugs on the brain, central nervous system, and behavioral patterns of the body. It is at that time when he came to appreciate the amazing capabilities our bodies inherently possess. As he learned more his appreciation and admiration for the human body grew. His passion for and interest in the central nervous system coupled with his love for health care led him to the Chiropractic profession.

He then attended Palmer College of Chiropractic-West in San Jose. He graduated in 2002 earning the prestigious selection as Valedictorian of his class. His passion for helping people is apparent in his patient centered, evidence-based "whole person" approach to the treatment of patients. He has a high level of expertise, knowledge and skill earning him a reputation which has been embraced by the community. He has been a keynote presenter for a variety of employers and organizations including Woodland Healthcare, Yolo County, City of Davis, Rotary, Yolo County Air Quality Managament, Lions Club and the Outta Sight Group.
Dr. Sherrill is an active member of the Woodland community serving on the board of directors for the Woodland Noon Rotary Club, Woodland United Way and the Business Network of Yolo County. He is also a member of the Woodland Business Link, Woodland Chamber of Commerce, American Chiropractic Association and the California Chiropractic Association.

His primary mission is to help people achieve, maintain, and surpass their health goals naturally. With the team approach he and Dr. Barrow maintain they are turning this mission into reality every day.
---
Dr. Holidae Barrow D.C.
Dr. Barrow was born and raised in Woodland, CA. She attended California State University Chico where she earned a Bachelor of Science in Exercise Physiology. Her passion for health care and leading a health lifestyle along with her desire to help others led her to the chiropractic profession. She attended Palmer College of Chiropractic West and graduated with Cum Laude honors in the Fall of 2002.
Through chiropractic she has been able to maintain an active and healthy lifestyle. It is her goal to help others achieve the same reality. She is currently a Spinning instructor certified through JGSI and is in the process of obtaining her Certified Personal Trainer certificate through the NSCA and a pilates certification through Stott Pilates.
In 2002, she trained for and ran in the San Diego Rock and Roll Marathon. Through the rigorous training regimen, she witnessed many of her teammates sustain injuries which prevented them from running in the event. She credits the regular chiropractic care she received for allowing her to remain injury free and keep in peak physical shape. One of her many dreams is to participate in an Iron Man Triatholon